Harrison got a haircut again! It's pretty short... The G.I.D. likes it though.
I got this canvus fabric on clearance, I love it. The color and print make me feel happy. So I wanted to try it out - and drain my camera battery for recharge at the same time. I pinned it the the chair rail got a chair and yelled for Harrison to help me.
"is everything okay?", he asks when I tell him I need his help. Oh yeah, I just want you to pose for me a moment.
He comes and plops down to model for me. No questions, no wining, no arguments. Cool.
I was only able to fire off five shots and the battery died. Just enough...
Enough to love this shot.
Some days it just all comes together - if only for a brief moment.
You can check out a couple more shots (including this one - and his goofy poses) straight from the camera
here
.
And see more photo stories by clicking below ...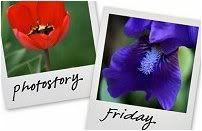 Hosted by Cecily and MamaGeek