I came downstairs one morning this past week after sleeping in for an extra hour. Harrison and Daddy were moving through their usual morning routines by the time I joined the party; as I poured my morning coffee and attempted to get a baring on the day Harrison called out from the living room,
"Mommy can you get my kitchen knife and pirate spear!"
I stopped in my tracks -
Kitchen Knife
?
What could they have possibly been doing before I got out of bed?
"Kitchen Knife?" I repeated. Still pondering the "spear" part of the sentence.
"Oh, nevermind! I got it!" Harrison said as I honed in on what he was talking about.
Much to my tired relief the
"kitchen knife"
is the only play knife from his wooden food cutting set and the
"spear
" is his Pirate eye-patch. Phew!
[
Yeah, I don't get where "spear" came from either
]
Hey, at least he's not darting around wielding REAL kitchen knives...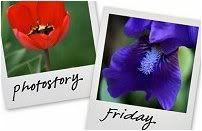 Hosted by Cecily and

Emily